From figuring out who you want to work with to creating and running your own marketing campaign, handling responses and client-focused resources, I've got you covered. Enjoy ongoing support in a monthly membership or pick a self-paced course, all specific to translators.
Membership Group for Ongoing Support – The Expedition Group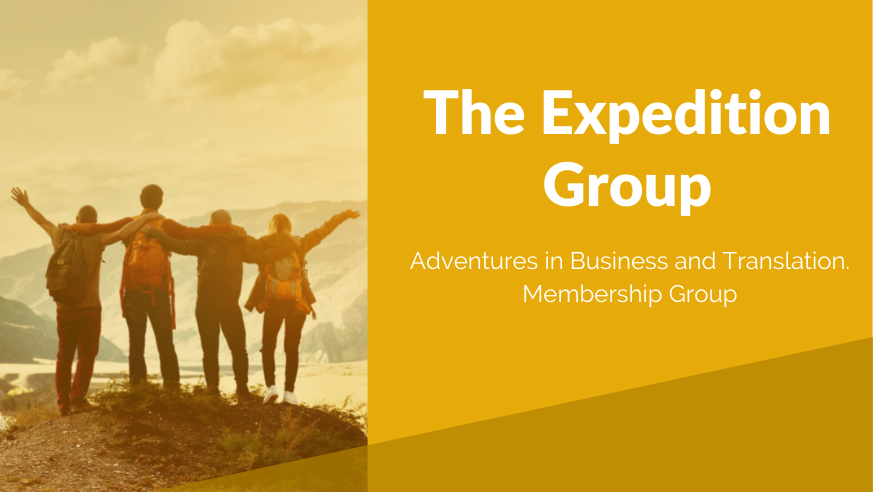 Enjoy ongoing support. Let me take you off the beaten track on mini marketing adventures to help you attract new clients and grow your translation business
If you want the same satisfaction and enjoyment from the business and marketing side of things as you get from your quest for the perfect turn of phrase in your translations, then I invite you to join The Expedition Group.
Banish the guilt at continually putting aside your marketing and forgetting to follow up with that quotation. It can be hard to know what to do next. There's no need to second-guess yourself when you have a place to ask your business and marketing questions! Get personal feedback on your marketing, a lively forum to network with the rest of the group and cheer each other on, monthly challenges and Q&A and focus calls.
Inside you'll find a growing archive of training expeditions, each helping you with a specific area of your translation business. Create a persuasive portfolio, get guidance for an upcoming trade show visit and discover a more compelling way to present your quotations that will improve your acceptance rate.

Find all the details here
Training Courses on Specific Topics
Persuasive Portfolios
Win more direct client business with a power-packed portfolio that sells on your behalf. With the option to receive personalised feedback to add even greater impact!
This course covers everything you need to create an impressive portfolio: The essential components, how to get the best testimonials and craft compelling case studies. You don't need translation samples and can create a marketable portfolio even if all your work is protected by non-disclosure agreements and/or clients won't give you permission to use their company name.
Presenting a client-focused portfolio to potential clients looks good, feels good and crucially, helps you control the narrative if your contact is selling on your behalf.
Wow your future clients with a persuasive portfolio!
Article Writing
This self-paced article writing course is spread over 5 weeks. It takes you from coming up with ideas to a published article and gives you a system you can use to create regular content.
Do you want more enquiries from clients who find you through your content?
Adding articles to your website is a great place to start. You can answer your potential clients' pressing questions, take them behind the scenes and introduce them to your translation process at a deeper and more helpful level than you can on a general webpage.
Start creating content that helps your reader make an informed decision about working with you and helps you get found via internet searches, converting your words into enquiries to collaborate.
Find Your Ideal Clients
A short course that takes you from 'there are too many options!' to an actual shortlist of people you want to contact.
You've decided to run a marketing campaign but this initial preparation step of figuring out who you want to contact can become a huge stumbling block. In this mini-course I'll show you how to narrow down your search, identify the key factors you need to consider when selecting companies and determine what's not important so you can avoid second-guessing yourself. We also cover how to track down useful contact details.
Find Out More
Direct Marketing Course
A two-part course taking you through everything you need to know to run a successful direct marketing campaign. Strategy and implementation!
Part one explains the direct marketing strategy and what your potential clients really want. You'll discover how to create compelling offers, write sales letters and encourage responses to win new clients and gain a deeper understanding of your target market.
Part two is all about the implementation: Send out your marketing materials, put theory into practice as you handle different responses and follow up effectively with your contacts. We look at long-term relationship building to keep in touch with your dream clients so that you're the person they contact for their next translation project.
Publish Your Own Newsletter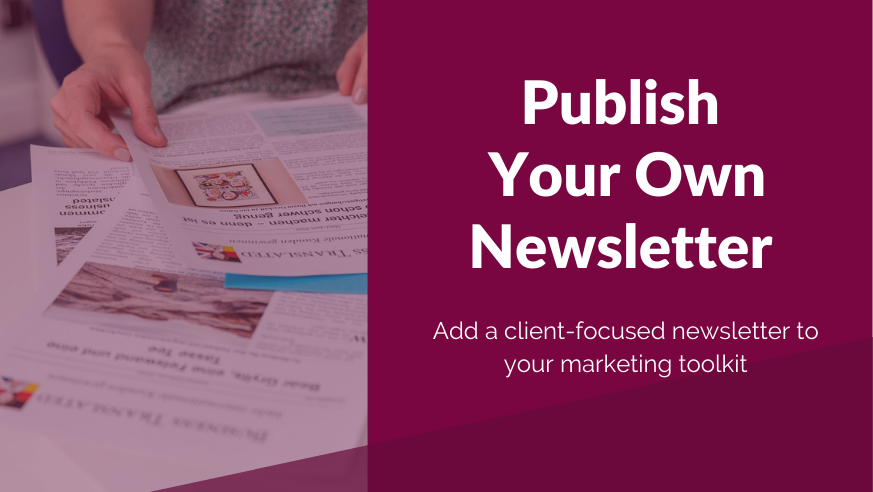 A client-focused newsletter can be a powerful tool and is simpler than you might think. In this course you'll come up with a bank of content ideas to suit you and your target market and create a newsletter in your chosen format.
Keep in touch with clients and contacts, build relationships, and grow your business. For more details on how to publish your own high-impact marketing tool, head here.