Go to a few trade shows and you'll realise that attending these kinds of events is still unusual behaviour for a translator. I travelled up to London recently for an exhibition and most people I spoke with had never met a translator before and were curious about my work. Top tip for translators – get to a trade show!
If you get the chance and live reasonably close to an event in your clients' industry, go on an intel-gathering mission. There's no need to pitch yourself, especially if this is your first client event, so release yourself from any marketing pressure. The best conversations happen naturally and are focused on the exhibitors, not you.
Read on for some tips based on my experience. I've attended quite a few trade shows in a range of technical and chemistry-related industries and in three different countries so far.
Don't be deterred by 'trade only' advertising
If the trade show is advertised as trade only, please don't rule it out. You're still entitled to attend because you do work in that field. If you need to, explain that you work in this industry and need to keep up to date with the market. This event would be the perfect way to do so (flattery will get you far).
Approaching exhibitors: Pick a time when a booth isn't busy, early in the day or the final afternoon of an event works well. A lot of visitors will be leaving by then and people have time to talk. Avoid stands that are busy.
Mindset: Be curious about the products and services the company offers. Most people are extremely happy to go into the finest of details and love questions. Hopefully you've picked an industry that you're genuinely interested in and in this case, questions will come up naturally.
Where are you from, why are you here?
Exhibitors and other attendees will automatically ask you which company are you from and what do you do – mainly so they can adapt their explanations and examples to suit you. These people are pros at sales and client-facing conversations.
Typically, I explain that I'm a translator and spend my time translating technical content for this industry and need to keep up to date. I might mention that it's nice to see the products in real life to get a feel for them or mention a specific project or client I've been working with. Bonus points if you can say you work with one of the exhibitors or speakers. Not only does that give you credibility, it also helps people who are baffled that a solo business owner would attend these events. And if the event is paid, your client can usually give you a free ticket because they'd love to meet you in person!
You may get a raised eyebrow, honest surprise and a few questions about translation and languages at this point, explanations as to their translation set-up (log that information mentally for future reference), and here's where the conversation gets interesting.
They relax because you're neither a competitor nor a potential client to impress. You're just having a nice conversation. At this point I usually get all the details about their product, the types of clients they work with (perhaps I work with clients they would like an introduction to), you can talk about the state of the industry, the market, how are they handling the latest legislation?
During the trade show
Don't discount the small talk. One person I chatted with at a recent event was struggling to find local British beer in London, making me promise to try the black beer any time I'm in Duisburg. Another person told me about their event plans in Europe over the following weeks – all useful topics to mention in a follow-up.
Take some time during the event to make notes. At the last event I did this by messaging a colleague in Slack as we'd been working as a team. This meant she got live updates and we both had a record of the event. I also had a paper notebook with me to scribble down random thoughts, ideas etc. at the event and on the way home.
After the event
You know what I'm going to say: When you get home, follow up with some of the people you chatted with at the event. Even though many of the people you meet won't be your target client or will be happy with their existing translation set-up, they'll probably be happy to connect on LinkedIn. They may move company, be able to refer you or introduce you to a mutual connection. You're growing your network in the right industry with people you've actually met in real life.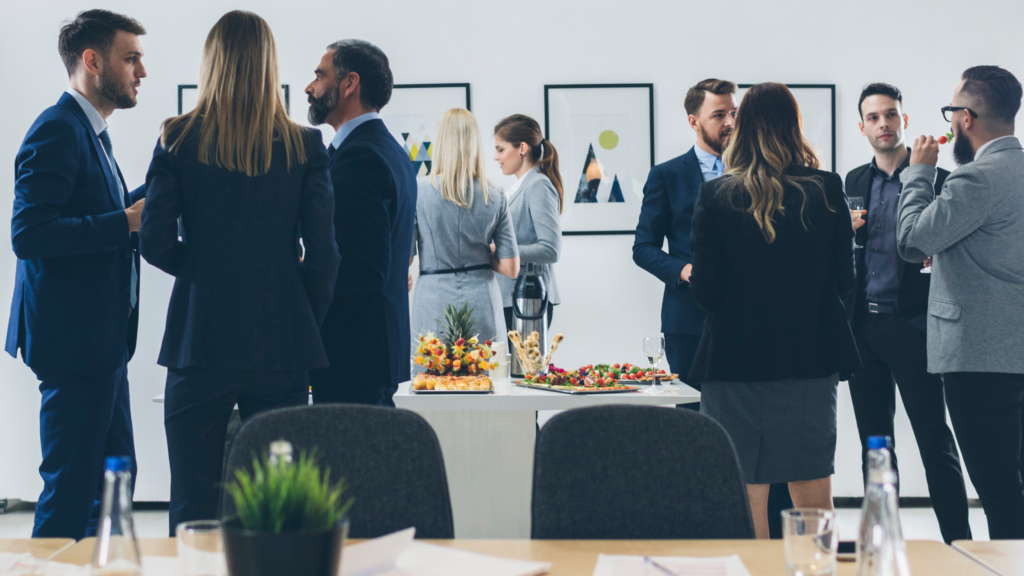 Incorporating trade shows in your marketing
Attending trade shows are an essential part of your marketing mix, especially if you want to work with direct clients. Lose the Impostor Syndrome – remember, you're absolutely entitled to be there as a professional in that industry. Ideally, you should attend these shows in your source language countries if your budget will stretch to it, in order to gain the maximum benefit of meeting potential clients and complete immersion in the culture of the industry. Below is a neat bullet point summary of how you can get the most out of attendance at these events:
You can use trade shows and the list of exhibitors to identify companies you would love to work with and will have an opportunity to meet.
Contact ideal exhibitors in advance with an offer and follow up in person – this gives you a nice conversation starter and easy introduction. These events are planned months in advance so give yourself plenty of time. A couple of weeks before is probably going to be too late.
Or use the show as your first point of contact and use the contacts you've made at the show to send a follow-up offer/package. How can you be helpful, what do they need?
Some trade fairs have areas set aside for talks. Could you be proactive and come up with a short talk on a relevant topic and add to the event? Not only would you get free entry if the event is paid, this also puts you in a position of authority and gives you extra visibility to attendees as well as exhibitors.
Explore your options: Could you attend an event in the next few months?
A conversation about real-life trade show experiences as a translator
Chiara Vecchi and I recorded our conversation about attending trade shows. I find trade shows to be an excellent way to see the products I write about and meet new clients. But I wanted to know if these events are just as useful for other language pairs and industries. Chiara translates from German and English into Italian for the cosmetics and lifestyle sectors amongst others and the answer is yes. She shares her experience and trade show tips for other translators in this interview. Clicking this link will take you to the video on YouTube.